Our Office Team
Marieke Ruysschaert | Managing director
I have always had a great passion for traveling, discovering new cultures and especially learning new languages. As Federico Fellini so beautifully put it "Another language is another vision of life." It helps expand your mind and enrich your future. With Ruysschaert Language Academy I want to share this passion and contribute to the personal growth of our students in a supportive way.
You can reach me by telephone on +32 9 281 01 53 or by email at marieke@ruysschaert.be
---
Morgane Payet | Marketeer
It is with great enthusiasm that I embark on this new adventure at Ruysschaert Language Academy. The dedication and love for young people and their language development appealed to me immediately. With my passion for languages and communication, I want to fully support this flourishing organisation and our young people in their further growth.

Do you want to work with us or promote our courses? Contact me by telephone on +32 9 281 01 53 or by email at morgane@ruysschaert.be

My areas of interest: dancing, music and spending time with friends & family
---
Virginie Pante | Operations Assistant
To discover new horizons, both at home and abroad, to start upworking partnerships: in order to be able to welcome new pupils to our courses every year: I'm really happy to see Ruysschaert grow!
Contact me by telephone on +32 9 281 01 53 or by email at virginie@ruysschaert.be
Our enthusiastic coordinators
Dirk Braet | Coordinator English Courses
I've been putting heart and soul into Ruysschaert. The management says that I'm a real teambuilder and that's exactly what I like, giving impassioned teachers that extra little push to help them grow. Every course is an adventure full of challenges, and that's what I enjoy.

My interests: good food, sailing,..
---
Charlotte Haeck | Coordinator English Courses
Working as a coordinator at Ruysschaert gives me fulfilment at so many different levels and continues to influence me in a positive way every time. It gives me the chance to accompany other teachers in their quest for inspired and purposeful teaching and to enthuse young people for language in all its facets. Language is my first love and to be able to share it with so many other people, with the focus on quality is what Ruysschaert means to me.

My interests: In my everyday life I'm a language teacher, event planner, flower arranger and music lover.
---
Maarten Huvaere | Coordinator English Courses
As a coordinator at Ruysschaert I put an incredible amount of energy into providing young people with close support, teaching them and witnessing their growth and I, in turn learn from that process. I'm glad to be able to be a part of a professional organisation that stimulates people to give the best of themselves and offers them chances to blossom and to push their own boundaries. As a lover of languages I am convinced that language and literature allow us to better understand other people and to value them even more.

My interests: reading, fine conversation, good food, festivals, the sea, an excursion with friends,...
---
Annelies De Ruyck | Coordinator English courses
At Ruysschaert we focus not only on the language knowledge of the pupils, but we also want to help young people develop on a personal level. That's what makes our courses unique, the attention to each individual. In my role as coordinator of the English and German courses it is with great pleasure that I coach our team of teachers, accompany the pupils and ensure that the activities are managed efficiently. Through the mix of lessons and activities you can witness how much pleasure pupils get from learning a language. The smiles on the faces during the course are living proof that we're getting it right!

My interests: music, dance, running, reading, languages, good food, family and friends
---
Joachim Peeters | Coordinator Dutch Courses
Being at Ruysschaert is like coming home. The cordiality, that warm feeling, an emphasis on strong support and a focus on human values ensure that you can and may grow both as a person and professionally. As a coordinator I link the vision of the organisation with the courses at each location. I, along with the team, make sure that every course participant feels at home and in this way dares to speak another language, dares to learn. As a didactic coach I help teachers to discover new learning methods so that they too, as teachers, can grow.

My interests: musicals, politics, city trips, family, well-being.
---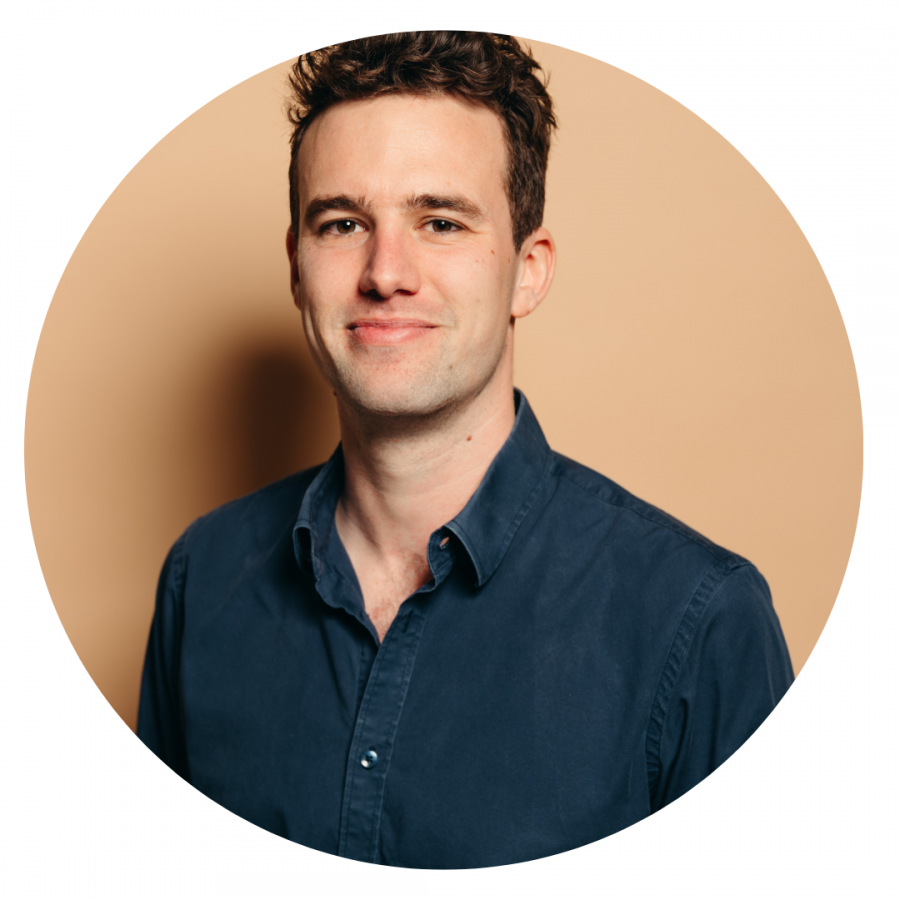 Jens Goetschalckx - Coordinator Dutch and English
At Ruysschaert, students not only learn a lot, they also have to live together for a whole week: with each other, the assistants and the course coordinator. More than that: the very essence, that pupils feel comfortable on the course and with each other, is a basic condition to be able to learn and develop to their full potential. This is something that, as a coordinator, I always keep an eye on. That is why I think it is important not only to support the teachers, but first and foremost the pupils, to make sure they feel at ease and thus offer them the space to grow - both linguistically and personally. That human, heartfelt focus is what I find so important and fascinating!

My interests: cooking and good food, sports (running), language and literature ...
---
Laura Vanbever - Co-coordinator English and Dutch
At Ruysschaert, you see people grow and blossom. First of all, you see pupils gain more confidence in their own abilities each day that passes by. But you also notice that colleagues (teachers) are becoming stronger and stronger as the week progresses, because we learn so much from one another. You just feel that your identity as a teacher and supervisor becomes stronger. And those are exactly the things that make me happiest as a teacher.

My interests: enjoying music, food, nature, a good book and doing nothing for a change.
---
Romain Ghysels | Coordinator French
Learning foreign languages has always been a passion to me, as well as teaching French. At Ruysschaert, I was able to brighten as a teacher, first of all by putting my students at the center of their learning, but also by creating lessons adapted to each of them. What fascinates me about Ruysschaert is that I learn as much from the students as they learn from me. It is very enriching and each course both the students and I go through a huge growth process.
My interests: travel, good food, languages, concerts and spending time with friends/family
---
Nicolaas Erbo | Coordinator English
Ruysschaert is a week of intense living together. A week of lessons and activities that we give to our students in an active and creative way. The energy I put in here I get back 1000x from the students. There is an atmosphere that you cannot compare to anything, it is a unique experience. I love to take on the challenge multiple times every year!
My interests: I am a busy bee and an open soul. I love to travel and soak up the culture. Also exploring nature and enjoying the freedom it offers. I also like to play paddle from time to time.
---
Alessandra Bilani | French Coordinator
One of those things that makes me return to Ruysschaert is the sense of community with colleagues and students. This is established through the creation of a bubble, where it is safe to make mistakes. Along with the complete immersion and small classes, that contributes to a unique experience that you can't replicate in regular education. It is always an enriching week for both students and teachers.
Favorite quote: "'Practice makes perfect."